Fight disinformation:
Sign up
for the free
Mother Jones Daily
newsletter and follow the news that matters.
I write a lot about the meat industry from the outside looking in. So I was delighted when an inside look at the industry fell into my hands: a real-life meat industry image makeover plan.
A source who wishes to remain anonymous gave me printouts from an internal presentation delivered by an official from Sara Lee. The company is best known for its sickly-sweet pies and cakes, but it has emerged as a major player in the packaged-meats market, with a brand list that includes Ball Park franks, Jimmy Dean sausages, and Hillshire Farm deli meats. (Well, it's called Hillshire Farm for the time being anyway—as you'll see below, that may subtly change soon.) Sara Lee has announced plans to split into two parts, one of them focused solely on packaged meat company (a "pure play" meat company, in Wall Street jargon). The plan I received highlights marketing ideas for the emerging meat company.
Below are some highlights. Warning: We are about to enter the strange arena of marketing, where fictional worlds are conjured up out of whole cloth for the sole purpose of moving goods.
From what I can tell, the intention expressed here is to brush up the image of Hillshire Farm and roll out two new premium brands: "Smith & Smith Fine Meats" and "Flat Iron Ranch." The campaign is "foundational," the one slide declares, "and demonstrates how the new, purposeful Sara Lee will manifest: Modern. Authentic. Simple."
From there, we get the new plan for Hillshire Farm(s):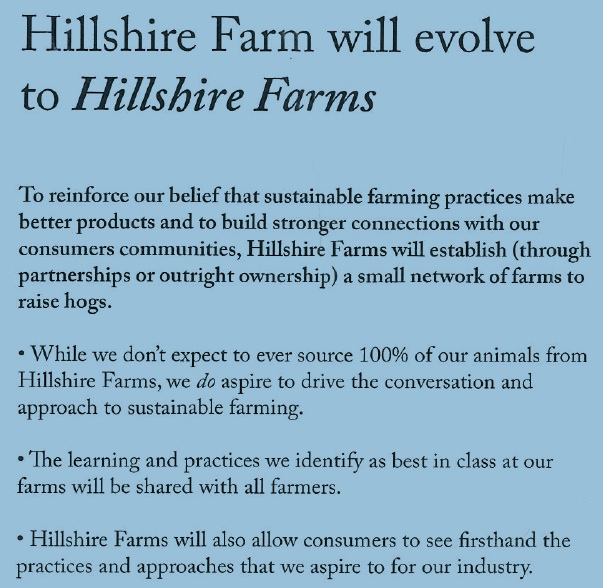 So, this "small network of farms" isn't so much about actually supplying the company, but more about projecting "aspirations." Then we get a slide featuring the logo:
Note those dangling peppercorns ripening on the vine. Those will be a key aspect of the new Hillshire Farms brand—particularly, the roast-turkey product.
And in that image, we find my favorite line in the whole presentation: "Give it up for pepper!" Black pepper isn't the only non-meat ingredient to take a star turn in this plan. Check out what gets highlighted in the ham product:
Good job indeed, bees! Though I have to wonder if our friends in Sara Lee's marketing department have been reading about all the dodgy Chinese honey that's been gushing into the United States as our own bee populations decline. Generally, I find it interesting that the plan isn't to herald any claims about the meat or where it comes from, but rather to focus meaninglessly on flavoring agents like honey and pepper.
From there, after a boring slide on the roast beef product—"sprinkled with salt, pepper, and herbs and roasted oh-so-slowly"—the presentation moves on to a summary of the Hillshire Farms strategy:
So Hillshire Farms is the everyday brand. The presentation then pivots to the upstart high-end brands, Smith & Smith Fine Meats and Flat Iron Ranch:

I should note that I did reach out to the Sara Lee press office to give the company a chance to comment on the document. Officials there confirmed that the presentation was a draft of a marketing plan for the meat division's 2012 launch as a stand-alone company. They emphasized that the effort was a "work in progress," and that what I had gotten hold of was already "way out of date." That wouldn't tell me anything else, except that all questions about the meat arm of Sara Lee would be answered at the company's March 2012 launch presentation for Wall Street analysts—to which they graciously invited me. And maybe I'll even take them up on it.
Draft or not, what we're seeing here is marketing professionals straining to put lipstick, so to speak, on a pig: to swath an industry built on abuse in the gauzy platitudes of sustainability, rarefied taste, and agrarianism.
A recently released, agribusiness-funded marketing study (PDF) put the challenge like this:
There is an inverse relationship between the perception of shared values and priorities for commercial farms. Consumers fear that commercial farms will put profit ahead of principle and therefore cut corners when it comes to other priority issues. As farms continue to change in size and scale we have to overcome that bias by more effectively demonstrating our commitment to the values and priorities of consumers.