Fight disinformation:
Sign up
for the free
Mother Jones Daily
newsletter and follow the news that matters.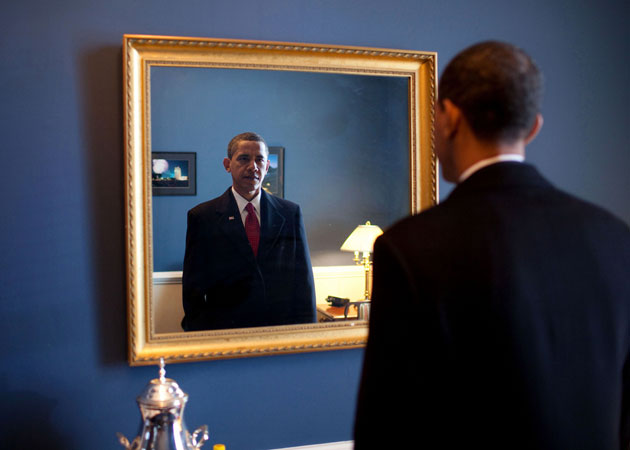 Liberals are as depressed right now as they've ever been. A Republican will fill out the remainder of Ted Kennedy's term in the Senate. Health care reform is on the brink of collapse. The Supreme Court has decided to allow corporations to spend unlimited amounts of money on election advertising. And President Obama is on the verge of losing Paul Krugman, who is disappointed that the White House isn't pushing Congress to forge ahead on health care reform:
I'm pretty close to giving up on Mr. Obama, who seems determined to confirm every doubt I and others ever had about whether he was ready to fight for what his supporters believed in.
Andrew Sullivan disagrees:
Let this process play out. Let Obama use SOTU to argue that nothing is not an option and if the Republicans prove they really do want nothing, then the argument for passing the Senate [health care] bill gets stronger. But doing this now, greeting public anxiety with contempt, would be dreadful politics.

It would destroy Obama's commitment to open dialogue and respect for the process, which has already been battered by some of the necessary sausage making to get a final deal. It would make Obama look like a brutally partisan president. That would break Obama's presidency.
Kevin says that's wrong:
Obama is already a brutally partisan president. He just doesn't seem to know it. But it only takes one side to make politics into a partisan slugfest, and at this point the only credible response is to slug back…. We either pass [health care reform] now or else wait another 15 years. It's time for Obama to buck up and show us what he's made of.
While a week seems like a lifetime in politics, it's really only a week. The State of the Union is on Wednesday. Obama will have the stage to himself. What he says will set the tone for the rest of this Congress—and what happens during the rest of this Congress will set the tone for the November elections, which will determine how the rest of Obama's first (and perhaps only) term plays out.
It's been a year since the inauguration, and Obama remains an enigma. No one really knows what to expect from him next week. What will he say? Will he break type and take the fight to the Republicans—perhaps by tying them to Bush in a way he has so far refused to do? Will he continue to reach out a hand to the GOP, even though his overtures have been slapped down time and time again? How will he lead his own party? What will he say about health care reform?
It definitely seems that big strategy changes are afoot in the White House—today's embrace of tougher bank regulations—pushed by Paul Volcker, the former fed chair and current Economic Recovery Advisory Board chief—is one signal of that.
But perhaps even more interesting was the White House's response to the Supreme Court's decision Thursday morning to strike down legal barriers on corporate spending in elections. Obama's statement was unusually direct, promising to "get to work immediately with Congress on this issue" to develop a "forceful" response. The standard political assumption, of course, is that voters don't care about "process issues" like campaign finance. But in the wake of the bank bailouts, with Congress appearing more beholden to big business than ever, that assumption might be wrong.
Congress is incredibly unpopular, and reforming election laws could be spun as taking on Congress—and Washington's "culture of corruption." The White House has so far avoided blaming Congress for much because they were trying to pass health care. "Politically, that's been like having Bernie Madoff in the cabinet," one White House aide told Time. Pushing for tougher disclosure laws, or even publicly funded elections, could be a smart bet for the White House right now. John McCain animated independent voters with his "straight talk" about campaign finance issues during his campaign for the Republican presidential nomination in 2000. If anyone could get people to care about those issues again, it's Barack Obama. But if he doesn't have the stomach to fight for the health care bill, how will he push for election reform?