Fight disinformation:
Sign up
for the free
Mother Jones Daily
newsletter and follow the news that matters.
Interior, South Dakota—Ask any 10 sources where the West begins and you'll get 10 different answers: St. Louis tells us it begins at the Arch; Rapid City tells us it's the Black Hills; the writer William Least Heat-Moon says it's the tall-grass prairie of Chase County, Kansas. Someone in the UP once told me that the West begins at the Cumberland Gap. It's like unobtanium.
Except, I think I've actually found it.
Drive west through South Dakota, head south at Wall, and cut through the Badlands, and sooner or later find yourself in Interior, population 77, perched off to the side of the highway like a just-ripened piece of fruit.
If today's Southern culture is rooted, very generally speaking, in a shared historical memory, the West of my imagination is defined more by a series of actions; it's a place of mass movements (think Oregon Trail or Brigham Young), and engagement (with the land, and its original inhabitants).
There are certainly other ways to think of it—the West of tumbleweeds, and sun-bleached longhorn skulls, and kitschy stores that sell gemstones and sandpaintings, and dreamscapes of rock formations with names ripped from Norse mythology—but if I had to make the West from concentrate, I'd start with the suggestion that the West was something that was "won," and work backwards from there.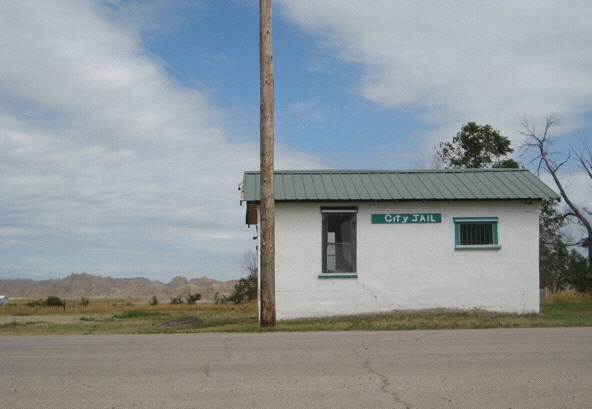 Interior, as befitting its name, is where the West really begins, in spirit if not geologically. You can walk the place in 15 minutes and see a half-dozen or so buildings you wouldn't have thought existed except in memory: The old city jail, which even I totally think I could bust out of; the old chuch, set against the backdrop of the Badlands, the place God forgot; the defunct gas sation; the handful of bars with signs still catering to bikers from Sturgis; some trailers; a K-8 school with an empty playground.
But mostly, I'd say Interior marks the beginning of the West because of the sign, across the street from the church and the old jail, which sketches the town's vast narrative arc like a B-Side from Herodotus. It may as well be a welcome sign to the West.
"The post office burnt down, about five years ago. When was that—it was five years ago? Yeah," says Heather Tucker, manning the register at Badlands grocery store. "That was pretty much the highlight of the last 10 years."
Heather grew up in town, went to the K-8 public school, moved out after high school, and then returned. I ask her how long her family has been in town and she has no idea: "Since the beginning of time," she volunteers.
"I left for a while," Heather says, "but it's kind of like a black hole, because you get sucked back in."