Via Andrew Sullivan's Daily Dish, and offered without further comment: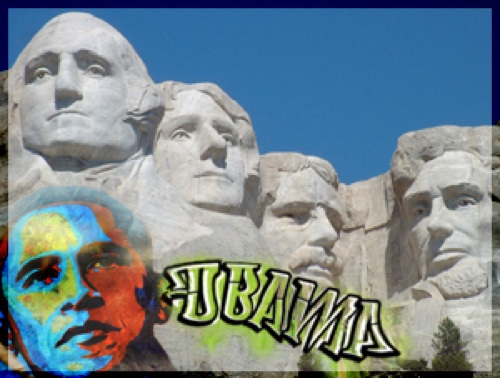 "The image above appears on Rush Limbaugh's Web site. Is any American more adept at exploiting racial dog whistles? It's always egregious enough to be calculatingly offensive, but never quite an open and shut case, because most of all the talk radio host revels in being called a racist so that he can throw up his hands and complain about liberal race-baiting. The accompanying text (emphasis added):
This guy is an utter wrecking ball all by himself on the world stage to the point now of getting embarrassing.  This presidency of Obama's, it doesn't take much to irritate the left.  Try this:  "Barack Obama's presidency is graffiti on the walls of American history."  That's what his administration is.  No more than graffiti on the walls of American history.  We have a juvenile delinquent for a president who has ruined so much public and private property, not even his gang is making much of an effort here to protect him.  It's an utter disaster.
This is self-concious and all the more disgusting for that reason."