Fight disinformation:
Sign up
for the free
Mother Jones Daily
newsletter and follow the news that matters.
A controversial San Francisco initiative to ban infant circumcision hit a dead end after a San Francisco Superior Court judge ruled last week the bill must be removed from the November ballot. But this doesn't mean the contentious national debate about whether parents should have the right to remove their child's foreskin is over—not if "intactivist" and "Foreskin Man" comic creator Matthew Hess has anything to do with it. He and his activist group MGMbill.org plan to appeal the ruling, and his superhero Miles Hastwick (aka Foreskin Man) will continue to battle circumcisers in comic books. "We'll keep pushing to protect boys," Hess said.
Hess wrote the San Francisco circumcision ban, and he's an outspoken member of the intactivist movement, a cleverly named group of activists seeking to end all medical and religious circumcisions of infants. After realizing he "was never going to get through… to a certain number of people" using reason, Hess said he created "Foreskin Man" in 2010 to "get people talking about circumcision." In that regard, he's been successful. People have certainly been talking about Foreskin Man and his cause.
At first, the media and public weren't sure if Hess was serious about a comic meant to gather support for his ballot initiative. Some find humor in Hess's blonde, blue-eyed, muscular superhero, who defends the foreskins of young boys with the help of sidekicks like Vulva Girl. Others have been deeply offended by the comic's equation of male circumcision to female genital mutilation and its vilification of those who perform circumcisions—including doctors (Issue No. 1), Jews (Issue No. 2), and African tribes (Issue No. 3).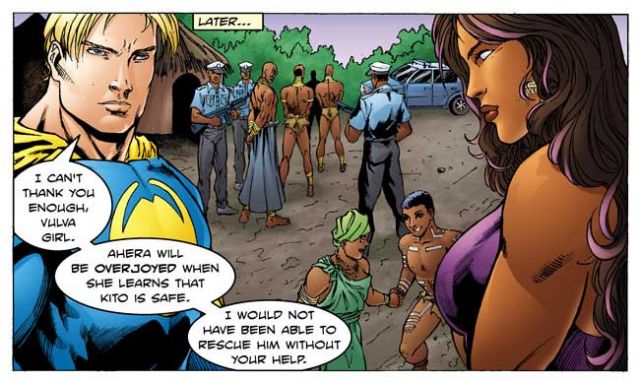 The second issue of "Foreskin Man" was particularly controversial because it criticizes the Jewish circumcision tradition and features a villainous orthodox rabbi called Monster Mohel whom "nothing excites… more than cutting into the penile flesh of an eight-day-old infant boy."
"There is such dripping anti-Semitism and anti-female rhetoric in this [comic]," Abby Porth, the associate director of the San Francisco Jewish Community Relations Council, said. "It's outrageous." The Jewish Community Relations Council is one of the plaintiffs who sued MGMbill.org over the ban.
"It's not intended to be anti-Semitic: it's intended to be anti-genital mutilation," Hess said in his defense. "You can see that the common theme is all the villains are circumcisers. They're not all Jewish," he said.
But for Porth and other critics, including the Anti-Defamation League, the comics cross the line with their imagery. "Monster Mohel… appears to be lifted straight out of Nazi propaganda. [He's] a hook-nosed orthodox rabbi who's bloodthirsty for circumcision, which smacks of the centuries-old blood libel," Porth said.
Hess disagrees. "The first issue had a villain, Dr. Mutilator, who turned into an actual monster… I didn't hear anyone complaining that that was anti-doctor or anti-medicine," he said. "So in the next issue, [when] we dealt with Jewish circumcision… naturally the villain was also drawn evil, and it was done intentionally—to make a point."
Religious tradition isn't the only reason some object to "Foreskin Man" and the MGM Bill. Based on studies showing circumcision lowers men's risk of urinary tract infections and sexually transmitted diseases, the Centers for Disease Control and Prevention (CDC) is considering whether or not to recommend it as an HIV prevention method. But Hess criticized the accuracy of these studies, including one showing that in Africa, male circumcision reduces a man's chance of contracting HIV by 60 percent. "The data is very conflicting at a macro level," he said. "Even if it could be shown that circumcision provided 100 percent protection against AIDS, I would still be opposed to forcing that onto a child who can't consent."
When asked if he thought there was a way to better navigate the sensitivities of minority religious groups while criticizing their circumcision practices in "Foreskin Man," Hess replied, "I'm not concerned about that when it comes to this issue. I think it's far more important to fight for human rights for all people, rather than give any specific group a free pass."