Fight disinformation:
Sign up
for the free
Mother Jones Daily
newsletter and follow the news that matters.
The Marine Stewardship Council (MSC) just racked up another black eye from their sustainable seafood program. According to a new paper in Current Biology, nearly 1 of every 5 fillets of Chilean sea bass genetically sampled was either not Chilean sea bass or not from the only area deemed to have a sustainable fishery—the South Georgia Islands/Shag Rocks fishery.
I've written before—here at MoJo and at Deep Blue Home—about other problems emerging with the MSC, casting doubts on its stretchy definition of "sustainable."
Here's what the authors of the Current Biology paper have to say about the Chilean sea bass fishery:

The decline and collapse of many of the world's fisheries has led to the implementation of social marketing that promotes the consumption of sustainably harvested seafood. Because the success of this strategy depends on supply chain integrity, we investigated the accuracy of eco-labels for Patagonian toothfish, marketed as 'Chilean sea bass' (Dissostichus eleginoides), by genetically analyzing retail fish bearing certification labels from the Marine Stewardship Council.
They found:
8 percent (3 of 36) of the fish labeled as MSC-certified Chilean sea bass were actually other species.

15 percent (5 of 33 samples) that were Chilean sea bass were unlikely to have come from the South George Islands/Shag Rocks fishery.
Chilean sea bass are big (≥200 kilograms/440 pounds and up to 2.3-meters/7.5-feet long) and long lived (50 years, with sexual maturity as late as 20 years)—two guarantors of vulnerability to overfishing. Nature News reports:
Catching them "is not like fishing for fish—it's almost like logging for trees", says Stephen Palumbi, a marine population biologist at Stanford University in California, who was not involved with the study. "It takes that long for these fish to grow up and be ready for market. That's why the fish got in trouble."
Meanwhile Science Now reported the views of Lars Gulbrandsen at the Fridtjof Nansen Institute in Lysaker, Norway, who studies ecocertification:
"The high rate of mislabeling revealed in this study could potentially undermine MSC's reputation as the gold standard for environmentally friendly fishing."
The study authors concluded:
Although social marketing has the potential to positively impact threatened species by guiding consumers towards sustainable fisheries, our study showed that retail labeling of MSC-certified Chilean sea bass was inaccurate and that country-of-origin labelling was highly misleading. With respect to certified sustainable fisheries, mislabeling ultimately results in misplaced consumer demand for uncertified fisheries, thereby undermining the most basic goal of this conservation strategy.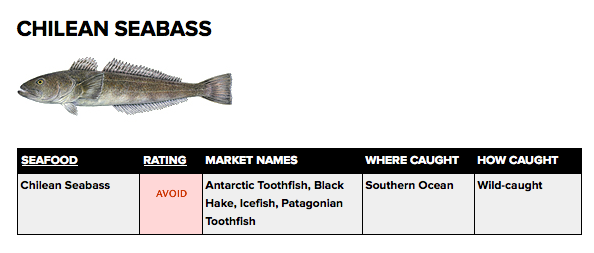 The Monterey Bay Aquarium's Seafood Watch program (with cool app) lists Chilean sea bass as a fish to avoid due to high mercury and dodgy fishing methods:
Illegal, unreported and unregulated fishing has depleted some populations of Chilean seabass. In addition, some Chilean seabass is caught using unmodified bottom longlines, which hook and drown thousands of seabirds each year, most notably endangered albatross. A portion of the Chilean seabass fishery is certified as sustainable to the standard of the Marine Stewardship Council. These certified fisheries are not evaluated in the Seafood Watch report and are not covered under the general "Avoid" recommendation.
And now we know what to make of the "certified sustainable" fisheries.

The paper:
♥ Peter B. Marko, Holly A. Nance, and Kimberly D. Guynn. Genetic detection of mislabeled fish from a certified sustainable fishery. Current Biology (2011). DOI:10.1016/j.cub.2011.07.006.
♥ Open-access papers.

Cross-posted from Deep Blue Home.