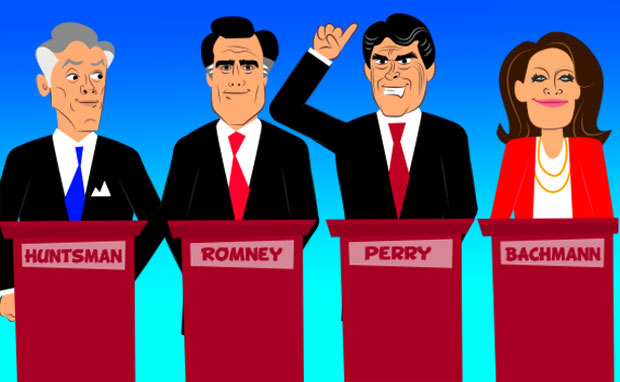 Read on for the Mother Jones news team's instant analysis of Thursday night's Fox News/Google GOP presidential debate in Orlando, Florida.


---
In one sense, the Republican debate tonight wasn't too interesting: Most of the candidates repeated pretty much the same talking points as before. But Perry really stuck to his talking points. He remains completely unable to say anything really substantive, and he stumbles badly when he's trying to dredge up a new talking point from the depths of his brain. I know that deep policy expertise isn't his big selling point, but he's really starting to sound like a schoolboy who memorized a few index cards 10 minutes before showtime, delivers them haltingly when the teacher calls on him, and then tries to joke and grin his way into a passing grade.
So what was interesting was listening to Frank Luntz's focus group after the debate. There were a ton of defectors from Perry to Romney. I don't know if this means anything, but if it does it means that even the Republican base may be getting a little weary of Perry's audio-animatronic good ol' boy shtick. Plus a lot of the focus groupers really bought in to Romney's criticism of Perry's policy of letting illegal immigrants pay in-state tuition at Texas universities, and they were really upset at Perry's defense. They did not—not not not—appreciate his suggestion that anyone who disagreed with him about this was heartless. That's the kind of thing they hear from liberals, and they're sick of it.
Perry now has the base firmly upset with him over both immigration and the HPV vaccine; he was unable to really defend himself on either Social Security or the number of uninsured in Texas; and his lack of policy seriousness is starting to go beyond winsome and edging instead into not-ready-for-prime-time territory. So we'll see. I keep thinking that Perry's smugness and lack of depth is eventually going to wear thin even among the faithful, and maybe tonight was the night where that started to happen. Maybe.
 
---
At Thursday night's Fox News/Google debate, Texas Gov. Rick Perry stood firm on his decision to allow in-state tuition for undocumented students at state universities, despite harsh criticism from his rivals. 
At this point, all of Perry's opponents have recognized that he's vulnerable to attacks from the right on immigration, and Rep. Michele Bachmann (R-Minn.) took a swipe at Perry immediately when the topic of immigration was brought up. Bachmann said she would build a border fence on "every mile, every inch" of the southern border, and she said "illegal aliens" shouldn't get any government assistance. Both were veiled swipes at Perry, who has also dismissed the idea of a border fence as unworkable. 
When it came time to respond however, Perry defended his decision, saying that "we need to be educating these children because [otherwise] they will be a drag on our society" and adding that if you don't sympathize with the plight of undocumented immigrants brought here as children, "you don't have a heart."
Perry's answer got a decidedly mixed response from the audience, some of whom clapped, some of whom booed loudly. Former Pennsylvania Sen. Rick Santorum took the bait, accusing Perry of being "soft" on illegal immigration and saying it was wrong to give undocumented immigrant students "preferential treatment." Mitt Romney seconded Bachmann on the border fence and said it was wrong for Perry to grant in-state tuition rates to undocumented immigrant students. This is the one issue where Romney is on Perry's right—he vetoed a similar proposal as governor of Massachusetts. 
The problem for Perry is that despite his stated opposition to the DREAM Act and comprehensive immigration reform, the moral arguments he uses to defend his actions in Texas double as justifications for policies he says he opposes. And the GOP primary audience knows it.
 
---
Republican presidential candidate Herman Cain is worried that the EPA is going to regulate farm dust. So worried, in fact, that he pledged to eliminate the EPA during Thursday's presidential debate.
"It's out of control," Cain said. "The fact that they have a regulation…to regulate dust…says they've gone too far."
Cain's not alone in this (mistaken) belief that the Obama EPA is going to issue fines on dirt. It's one of the tea party's favorite EPA conspiracy theory. Sadly, it's not true. Despite much outrage on this subject in Congress, the agency has said repeatedly that it isn't issuing new rules on dust.
Yes, the EPA is revisiting its dust standards—but those standards have been in place since 1987. In April, the EPA issued an evaluation of particulate matter pollution standards, because the report is a requirement under the Clean Air Act. And while the report suggested that dust standards should be tightened, the EPA has no plans to "regulate" dust any time soon.
The EPA certainly isn't going to do so by January 2012, as Cain falsely claimed. Even if they intended to, the rule-making process would take a lot longer than that. And, for whatever it's worth, the Bush administration EPA actually did issue dust regulations.
 
---
For the third consecutive GOP presidential debate, the audience stole the show. At the Reagan Library debate in California, attendees memorably broke into a spontaneous round of applause in support of Rick Perry's record on the death penalty. At last week's debate in Tampa, a handful of audience members cheered the prospect of a man without health insurance being left to die. And on Thursday in Orlando, a chorus of boos erupted when a gay Army veteran asked former Sen. Rick Santorum if he should still be allowed to serve the country in Iraq.
Watch:
Santorum's answer was characteristic: Looking uncomfortable and stammering slightly, he said that the military was practicing "social engineering" by allowing gays to serve openly. He also effectively suggested that service members should practice abstinence, stating that "any type of sexual activity has absolutely no place in the military." He declined to thank the questioner for his service, normally standard operating procedure for an American politician.
More disappointing than Santorum's answer was the fact that he was the only candidate forced to come up with one. Fox News' Chris Wallace grilled Santorum and then moved on to a new subject. But DADT is in the news right now, and it is a tangible policy that the next president, as commander in chief, will be in a position to act on. It speaks not just to social issues, but also national security. Would President Perry block gay soldiers from receiving benefits? Would President Romney move to reimplement DADT? Would President Cain (kidding) move to to create separate housing for gay soldiers and straight soldiers (as some social conservatives have suggested)? If the candidates don't like the current policy, what exactly are they going to do to change it?
Santorum got pegged with the question because he's considered a "social issues" candidate. But this question really deserved to be asked of everyone.
 
---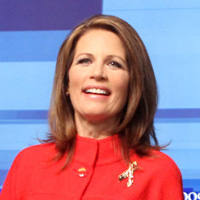 During Thursday's Google/Fox News debate, Rep. Michele Bachmann (R-Minn.) continued her pattern of making factually suspect statements. At one point, she claimed that "President Obama has the lowest public approval ratings of any president in modern times." Granted, it might all depend on how one defines "modern times." But if we are to interpret "modern times" as including the presidencies of any one other than Barack Obama, then we have to consider the following:
George W. Bush clocked in at a low point of 25 percent; Truman sank to 22 percent in a 1952 Gallup poll; Nixon hit a low of 24 percent just days before his resignation; and Carter sank to 28 percent.
President Obama has thus far experienced a Gallup low of 38 percent. By the laws of first-grade basic math, Obama has sixteen points to go before tying the lowest presidential approval rating Gallup has on record.
---