Fight disinformation:
Sign up
for the free
Mother Jones Daily
newsletter and follow the news that matters.
This post has been updated. Click here for the latest.
A group of self-identified conservatives say they plan to sabotage the effort to recall Wisconsin GOP Gov. Scott Walker, which begins on Tuesday, by burning and shredding recall petitions they've collected and misleading Wisconsinites about the recall process.
These plans, discussed in Facebook posts that were first reported by the blog PolitiScoop, entail posing as recall supporters and gathering signatures, only to later destroy the petitions. They also include telling Wisconsinites that they can only sign one recall petition (which is false—they can sign different petitions as long as they each correspond to a different organization) and directing signature collectors to the homes of registered sex offenders. (Requests for comment were sent to each of the Facebook posters who allowed messages from other users.)
In one post, Will R. Jenkins says, "I'll be able to destroy 15-20K signatures." If things go well, he adds, he might even "be able to destroy upwards of 15-20% of the entire collected ballots in the state of Wisconsin":
Jenkins' Facebook profile lists his profession as "UNION SLAVE LABORER" at the Kenosha Unified School District, located in southeast Wisconsin. His description reads, "Dealing with white trash, illegal immigrants, and criminal gang black kids isn't fun and games." Jenkins' interests are listed as "Greeting A Liberal," "Beating A Liberal," Strangling A Liberal," Burying a Dead Body," and "Having a Few Beers."
Another person posting under the name Terry Dipper quips, "I bet I can heat my house the whole winter with what I collect":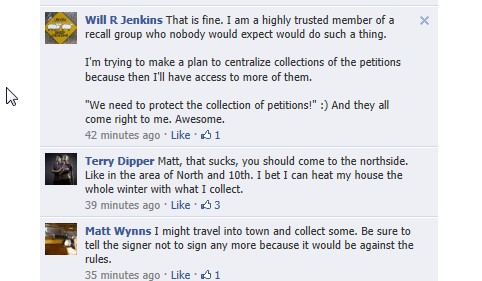 Poster Matt Wynns in Eagle, Wisconsin, doubles down on the idea of burning recall petitions: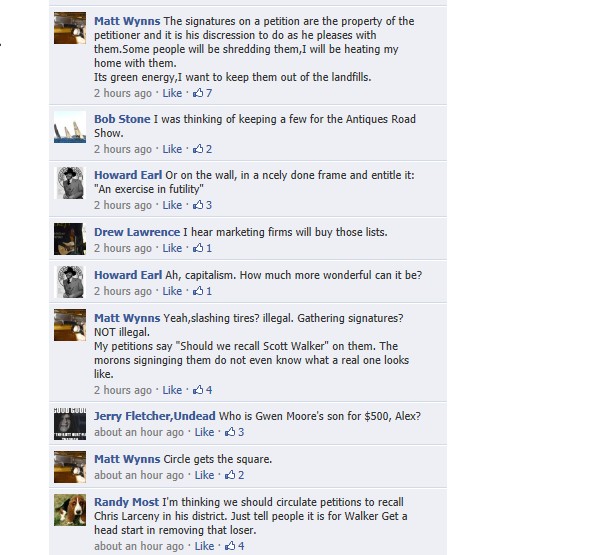 And finally Facebook users Matt Wynns and Terry Dipper discuss telling Wisconsinites that it's illegal to sign more than one recall petition—a false statement:
(You can read more of these posts at PolitiScoop, which posted nine different screen shots from Facebook.)
Michael Maistelman, a Wisconsin attorney and election law expert who reviewed screenshots of the comments, says the postings could raise serious legal issues if the plan is to tamper with official recall petitions. "If a person fraudulently solicits recall petitions and then destroys those petitions, they will probably go to jail," Maistelman says. "The law is very clear on this."
[UDPATE]: Reid Magney, a spokesman from Wisconsin's Government Accountability Board, says destroying or defacing an official recall petition would violate state law. (Here's the relevant statute.) Such a violation, he adds, would be a class I felony in Wisconsin, which carries a maximum fine of $10,000 and up to three-and-a-half years in jail.