Fight disinformation:
Sign up
for the free
Mother Jones Daily
newsletter and follow the news that matters.
On Wednesday, President Obama zipped up to New York City to attend three different fundraising events. Occupy Wall Street protesters greeted the president outside the Sheraton New York, the site of one of Obama's fundraisers, though New York police officers kept the demonstrators penned in what NYPD called "frozen zones." (More on that here.)
But perhaps the most interesting item to come out of Obama's New York swing was this statistic, via CBS News' Mark Knoller:
Sixty-nine fundraisers this year by December 1. That's an average of more than one fundraiser every five days. (Though, as Obama's latest Big Apple trip shows, these events are often clustered together on a single day.) This is a blistering pace of rainmaking for the 44th president in 2011.
Obama's fundraising activity surpasses that of predecessors George W. Bush and Bill Clinton. According to Brendan Doherty, a political scientist at the US Naval Academy, Bush attended 41 fundraisers between January 1, 2003 and November 30, 2003. Clinton attended 23 fundraisers from January 1, 1995 and November 30, 1995.
Here's that comparison in chart form: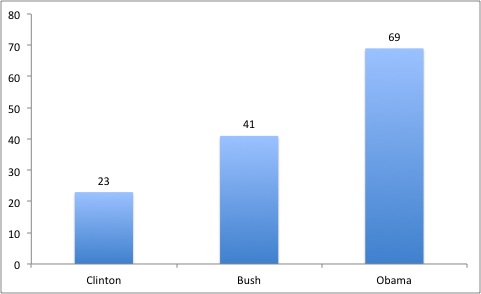 Obama is not on the money trail because he enjoys hotel ballrooms and posing for pictures with 1-percenters. The president's ramped-up fundraising efforts reflect the changing landscape of money in American politics, especially in the wake of the Supreme Court's Citizens United decision. Clinton and Bush II didn't have to worry about candidate-specific super-PACs and Karl Rove's shadowy Crossroads GPS outfit raising tens of millions of dollars to finance negative ads. And with the collapse of the presidential public financing system, which capped a candidate's spending, it's up to the candidates to rustle up as much private money as they can in the campaign arms race. (Obama opted out of the public financing system during the 2008 election, becoming the first presidential candidate to do so.)
Obama's fundraising has more than paid off. The president has raised nearly $90 million so far—but with a significant 46 percent of it from small donors—for his reelection effort, according to the Center for Responsive Politics. The next highest fundraiser in the 2012 presidential field is Republican Mitt Romney, who has raked in $32.2 million.
Obama's pace exceeds his own fundraising in the early stages of his first presidential run, in 2007. Through September 30, 2007, Obama had raised $80 million; this time around, that figure was $88 million through September 30. As the president, he does have the full backing and fundraising muscle of the Democratic National Committee, which is scouring the country for every dollar and every volunteer it can find to power Obama through what's shaping up to be one of the most bruising, cash-drenched campaigns in history.