Fight disinformation:
Sign up
for the free
Mother Jones Daily
newsletter and follow the news that matters.
The battle over your 2012 taxes continues this week in Congress. Here's the lay of the land: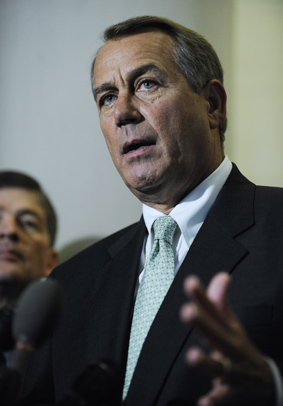 President Barack Obama and congressional Democrats want to lower the payroll tax for employees to 3.1 percent—cutting most families' tax bills by $1,500 in 2012. But the Democrats want to pay for that cut with a 1.9 percent surtax on incomes over $1 million—a nonstarter for Republicans.
The GOP plan would cut payroll taxes, too (to 4.2 percent, higher than the Democrats' preferred rate). But the Republicans' proposal comes with a grab-bag of other items from conservatives' Christmas list—it would scale back health care reform, slash Medicare spending, increase federal employee retirement contributions, hike Fannie Mae and Freddie Mac mortgage insurance rates, and sell off wireless spectrum. Although the GOP measure would extend unemployment insurance benefits—something the Democrats left out of their bill—it takes a page from Florida Gov. Rick Scott's playbook and requires unemployed people who want temporary assistance to undergo drug testing and possess or be working towards a GED. It also trims the number of weeks that UI benefits will potentially be available to unemployed workers from 99 to 59—a reduction of 40 weeks—and reduces the amount of support they provide.
Granted, the Democrats' proposal doesn't include UI extension. But it does pay for itself: according to the Congressional Budget Office, the 1.9 percent surtax on incomes over $1 million would cover the cost of the payroll tax cut. The Republican plan, on the other hand, increases the deficit by roughly $25 billion over the rest of the decade, according to the CBO. (Some commentators have argued that Congress shouldn't pay for the tax cut at all, and instead take advantage of historically low interest rates and just borrow the money.)
The bill that comes out of all this will probably resemble the Republicans' measure much more than the Democrats', says former Congresional budget expert Pete Davis. That means that a majority of Republicans in Congress are ready to put their name to a bill that further tightens the noose around the necks of the unemployed. And with its drug testing and GED-related provisions, the measure adds a humiliating twist to the party's ever-expanding war on the middle class: the idea that if you've been out of work for a historically long time, you're either an addict or undereducated. Merry Christmas!