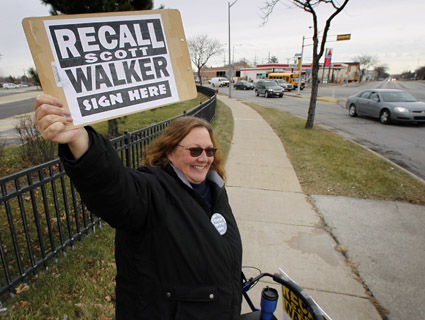 It's on in Wisconsin.
On Tuesday afternoon, the grassroots group United Wisconsin announced that it had collected more than a million signatures in the past two months to trigger a recall election of Republican Gov. Scott Walker—nearly twice the 540,208 minimum. That's almost as many signatures as votes Walker received in his 2010 gubernatorial election (1.12 million), and hundreds of thousands more than the 720,000 signatures Walker predicted on Rush Limbaugh's show Tuesday. Democrats also said 845,000 signatures had been collected to recall Walker's right-hand woman, Lt. Gov. Rebecca Kleefisch. Additionally, enough signatures were bagged to recall GOP state Sens. Pam Galloway, Terry Moulton, and Van Wangaard.
The Walker and Kleefisch recall efforts were spearheaded by United Wisconsin, which signed up more than 30,000 volunteers to canvass all of the state's 72 counties. United Wisconsin launched the recall campaign at midnight on November 15 and had 60 days to gather enough signatures to recall the governor and his lieutenant. Accounting for the signature-vetting process and legal challenges, the recall elections for Walker and Kleefisch are likely to take place in late April or May.
The signatures must still be reviewed by the state's Government Accountability Board and could also face legal challenges by lawyers for state Republicans.
Walker burst onto the national political scene in February 2011 when he introduced his "budget repair" bill which, among other changes, severely curtailed collective bargaining rights for most public-sector workers in the state. That bill, and Walker's subsequent threat to sic the National Guard on workers who hit the streets in protest, sparked a months-long uprising in Wisconsin that pitted Walker against labor unions, state and national Democratic officials, local progressives, and tens of thousands of angry Wisconsinites who crowded the streets of Madison, the state capital, and occupied the capital's stately rotunda for several weeks.
In the end, Wisconsin Republicans rammed through the anti-union budget repair bill, and in March, Walker signed it into law. The bill later withstood multiple legal challenges by Democrats and labor unions. In response, last summer Democrats launched recall campaigns targeting six Republican state senators but ultimately ousted just two of them (while protecting three Democratic state senators facing recalls)—one seat short of tipping the state Senate majority to the Democrats. In October, United Wisconsin announced plans to recall Walker and Kleefisch. "I think the momentum is just as strong, if not stronger" to target Walker, Wisconsin's most controversial Republican, said Kevin Straka, co-chair of United Wisconsin.
It's unclear at present who Democrats will choose to challenge Walker in the recall election. Potential candidates include Milwaukee Mayor Tom Barrett, Rep. Ron Kind (D-Wisc.)*, former Dane County executive Kathleen Falk, and possibly outgoing Sen. Herb Kohl (D-Wisc.). Internal polls from last fall showed Barrett as the most competitive candidate; Walker defeated Barrett in Wisconsin's 2010 gubernatorial race by 6 percentage points, or roughly 124,000 votes. A source close to Barrett says he won't run unless polling shows ample support for the Milwaukee mayor. "He's going to want to see a pathway to victory, and if the polling's not there, then he'll get behind whoever the best candidate is," the source said.
Even with a staggering 1 million signatures collected, Walker foes face a formidable challenge in tossing Walker out of office. Polls conducted near the end of 2011 showed Wisconsinities split on recalling Walker, though a November survey by St. Norbert/Wisconsin Public Radio found 58 percent of respondents backed the Walker recall effort.
Walker recall organizers are also paddling against the tide of history. Only two governors have lost recall elections in modern American history—North Dakota's Lynn Frazier in 1921 and California's Gray Davis in 2003. That said, in those recall efforts the signature totals amounted to 32 percent and 23 percent of the the state's electorate, respectively, according to United Wisconsin. By contrast, 46 percent of registered Wisconsin voters who voted in 2010 signed a Walker recall petition.
Recall organizers will also be up against an extremely well-financed Walker campaign, which can raise unlimited sums of money to defend the governor thanks to quirk in state elections law. Between July 1 and December 10, Walker raised $5.1 million dollars, almost half of it from out-of-state donors. Indeed, Walker chose to attend a fundraiser in New York City hosted by ex-AIG CEO Hank Greenberg on Tuesday rather than stay in Wisconsin.
But Walker recall organizers say the staggering number of signatures amounts to a mandate to get Walker and Kleefisch out of office. "The collection of more than 1 million signatures represents a crystal clear indication of how strong the appetite is to stop the damage and turmoil that Scott Walker has caused Wisconsin," said Ryan Lawler, an official with United Wisconsin.
Correction: This post originally referred to Wisconsin Rep. Ron Kind as a Republican. He is a Democrat.