For data crunchers and political reporters on the money trail, today is something of a holiday. Call it Super-PAC Tuesday.
Below are the highlights from Super-PAC Tuesday, from Colbert's mystery donors and Jon Huntsman's daddy's money to Restore Our Future's top funders. Super-PAC disclosures span the second half of 2011, while traditional campaign disclosures cover the final three months of last year. We'll be updating this throughout the day. And if you have tips or questions, leave them in the comments section or email us at scoop (at) motherjones (dot) com.
Mitt Romney Crushes in Campaign Cash
Breaking down the balance sheets of GOP presidential hopefuls.
Newt Gingrich, By the Numbers
Raised $9.8 million and spent $8 million in the final three months of 2011. Had $2.1 million on hand at the end of the year. Carrying a debt of $1.19 million.
Obama's Bundlers
Breaking down the biggest rainmakers funding Obama's reelection effort.
Notable Obama bundlers:
Vogue editor Anna Wintour ($500,000 or more)
Actress Eva Longoria ($200,000 to $500,000)
Scandal-ridden financier Jon Corzine ($500,000 or more)
Dreamworks Animation CEO Jeffrey Katzenberg ($500,000 or more)
Hollywood producer and executive Harvey Weinstein ($500,000 or more)
Actor ("The Wire," "Treme") Wendell Pierce ($50,000-$100,000)
WHO'S BACKING OBAMA'S NOT-VERY-SUPER-PAC?
Here's a look at some of the folks throwing bucks at Priorities USA Action:


$150,000: William Little, Jr., chairman of George Little Management, LLC, a company specializing in high-profile trade shows and networking platforms.
$100,000: Steven Spielberg, co-principal at Dreamworks Animation and director of such films as Jaws, Schindler's List, Jurassic Park, and that godawful Indiana Jones installment with aliens and a nuclear-blast-proof refrigerator.
$100,000: John Law, managing director at Warland Investments, a real estate firm in Cypress, California.
$50,000: Lenny Mendonca, director at McKinsey & Company, a global management consulting firm. He also serves on the board of The New America Foundation and is a member of the Council on Foreign Relations.
$15,000: Orin Kramer, a general partner at the New York-based Boston Provident who was dubbed the "King of the New York Obamasaurs" by The New York Observer in 2008.
$10,000: Joseph Falk, a public policy consultant for mega law firm Akerman Senterfitt in Miami. He is on the board of directors of the Victory Fund, a PAC dedicated to electing openly LGBT candidates to public office.
Golden Parachute
When Tim Pawlenty quit the race and endorsed Mitt Romney, the latter got an energetic, polished surrogate. The former got a fat check from Romney's fundraising machine to pay off campaign debt.
Sorry, Santorum. Mitt's Our Man
$150,000: Amount donated by Consol Energy, a Pennsylvania-based giant whose board of directors includes on Rick Santorum, to pro-Romney super-PAC Restore our Future.
$0: Amount donated to the pro-Santorum super-PAC Red, White, and Blue Fund.
Who's Your Daddy, Jon Huntsman?
70 percent of the money raised by pro-Hunstman Our Destiny PAC came from one man—Jon Huntsman Sr.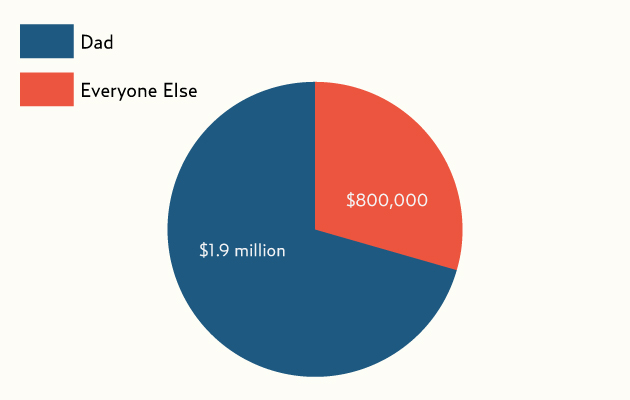 We are the 30 Percent
Where'd the rest of Our Destiny PAC's money come from? A quick sampling:
$250,000: Peter Arnott, chairman of the California investment management firm, Research Associates.
$150,000: The Walton family (WalMart).
$40,000: Craig Mckaw, Seattle telecom entrepreneur and cofounder of the Free Willy Foundation, which covered the living expenses and relocation costs of Keiko the Killer Whale. (His wife, Susan, chipped in another $40,000).
You Can't Buy Friends
Top strategist Ed Rollins left Michele Bachmann's presidential campaign in early September and proceeded to spend the next four months trashing it, famously telling reporters: "If I would have Googled her, I would have found out she had 6 chiefs of staff in 5 years." Which makes that payment in Bachmann's last quarterly filing sting that much more: $30,000 to one Edward J. Rollins of New York, New York. All told, Rollins was paid $120,000 by a campaign he helped sink, and which is currently $1,055,924 in the hole.
Who's Laughing Now?
Two fake presidential campaigns. One undisputed fundraising champion.
Colbert's "Heroes"
The famous, and not-so-famous, donors to Americans for a Better Tomorrow, Tomorrow
$1: Harry Ballsagna 7190 Ridgegate Dr, Gladstone, Oregon 97027-1180

$25: Pat Magroin 9756 Prospect Ave Lakeside, California 92040-4114
$10: Ibin Yerkinoff P.O. Box 1315 Levittown, Pennsylvania 19058
$1: Frumunda Mabalz 5364 Ballyduff St. Fitchburg, Wisconsin 53711
Sources: All super-PAC data appear in Federal Election Commission disclosure forms filed by the committees. Obama bundler data was published by the Obama reelection campaign.