In early March, Team Obama announced it had decided to "release the Biden": The pugnacious, filter-free VP would be returning to the campaign trail. Soon after, the campaign posted this photo to their website next to the headline "Welcome Joe back to the trail":
Yep. That's the 47th vice president of the United States at a 2012 campaign event, acting out a one-liner from CSI: Miami. Or preparing to gun down a yak from 200 yards away with the power of his mind bullets. Or simply striking a pose that might be described as "Bidening." The Internet jubilantly had its way with the image. Grist blogger David Roberts dubbed it the most "Joe Biden-y" photo ever taken.
Here are some more photos of Joe Biden being Biden—or at least doing a pretty good impression of The Onion version of himself:
Biden, at his part-time job as vice president of the United States of I-Wear-These-Aviators-Better-Than-You-Do.
In May 2011, probably saying something like, "Hey remember that time four days ago when we annihilated Bin Laden? That was pretty sweet."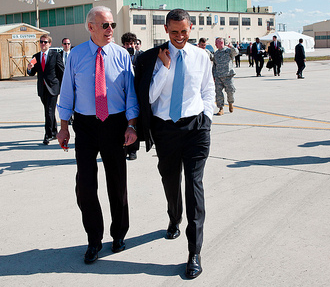 Yet another in a series of photos of Biden cracking up the president. Here, he hangs up his Aviators to play Angry Birds last July, debt-ceiling crisis be damned.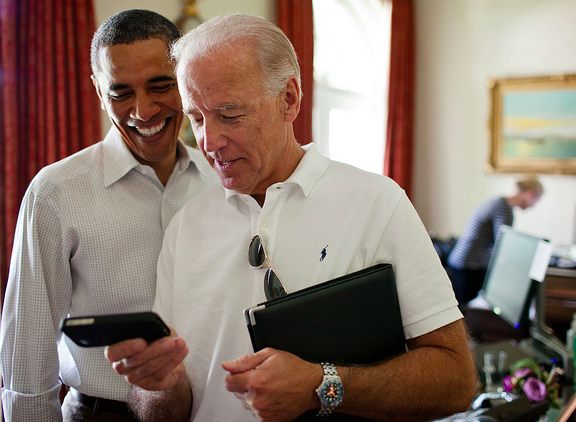 Showing up in Kandahar looking exactly like Steven Seagal in Machete while Sen. Lindsey Graham (R-S.C.) cowers behind him.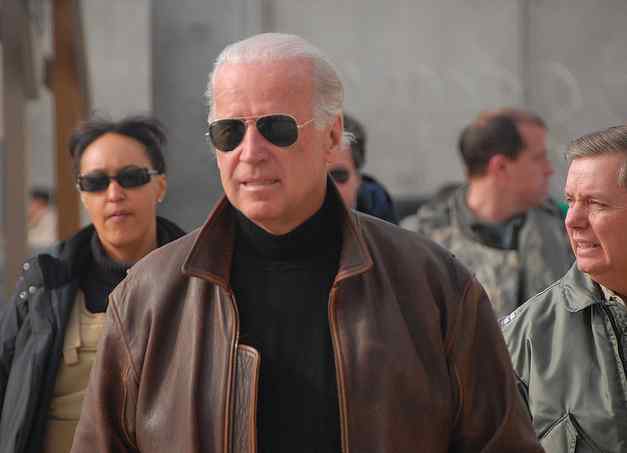 A bromantic high-five. 
In Iraq. Wearing the Aviators. Of course.
Ignoring a small child. And possibly telling the president a dirty joke.
Biden and Obama, blowing off running the country for a few minutes of taxpayer-funded dicking around.
 Oh hey Biden. Are you just bidin' your time? Or is that a UFO you see out there?
Image credits: TaraGiancaspro/Flickr; Pete Souza/The White House; Pete Souza/The White House; US Navy Petty Officer Aramis X. Ramirez/isafmedia; Pete Souza/The White House; The US Army/Flickr; Pete Souza/The White House; Pete Souza/The White House; Pete Souza/The White House