A baby fur seal crawled through the cat flap of a New Zealand home, hopped up on the sofa and fell asleep. From the Mail Online:
The stunned owner of the house, Annette Swoffer, thought she was hallucinating when she found the pup in her kitchen, hanging out with her cats.

It had made its way from the waterfront at Welcome Bay, New Zealand, through residential streets, across a busy road, and up some steps. 'I was in my office and I heard an awful racket down below,' Miss Swoffer told the Bay Of Plenty Times. 'I thought the cats have brought a rabbit or something in so I went down and had a look—and there's a seal in my kitchen. I thought "I'm hallucinating, this is just wrong". I'm looking and I'm definitely seeing flippers and not paws.'

Miss Swoffer called the Society for the Prevention of Cruelty to Animals—who struggled to believe her at first. 'They were giggling away and I'm saying "I'm not drunk, I'm not lying, there's a seal in my house",' said Miss Swoffer.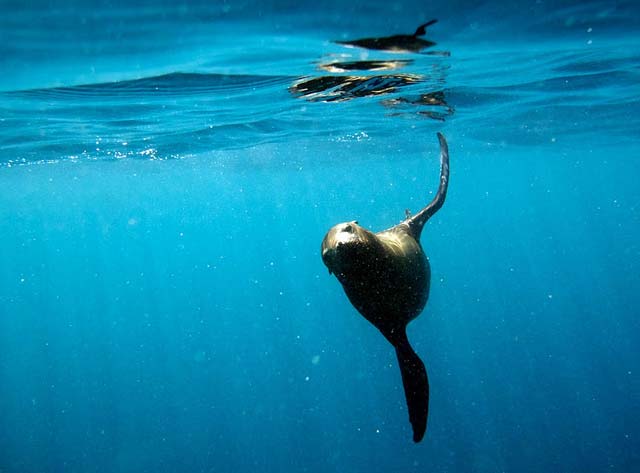 This reminds me of a filming trip I made to to Mexico's San Ignacio Lagoon many moons ago when an immature sea lion crawled up the ladder onto our live-aboard boat, hopped into a cabin and onto a bunk, where he fell blissfully asleep.
For the next week, he came and went from the boat as he pleased, returning in true Goldilocks-fashion to one bunk or another.
In the end we had to forcibly (gently) evict him before sailing north to San Diego.